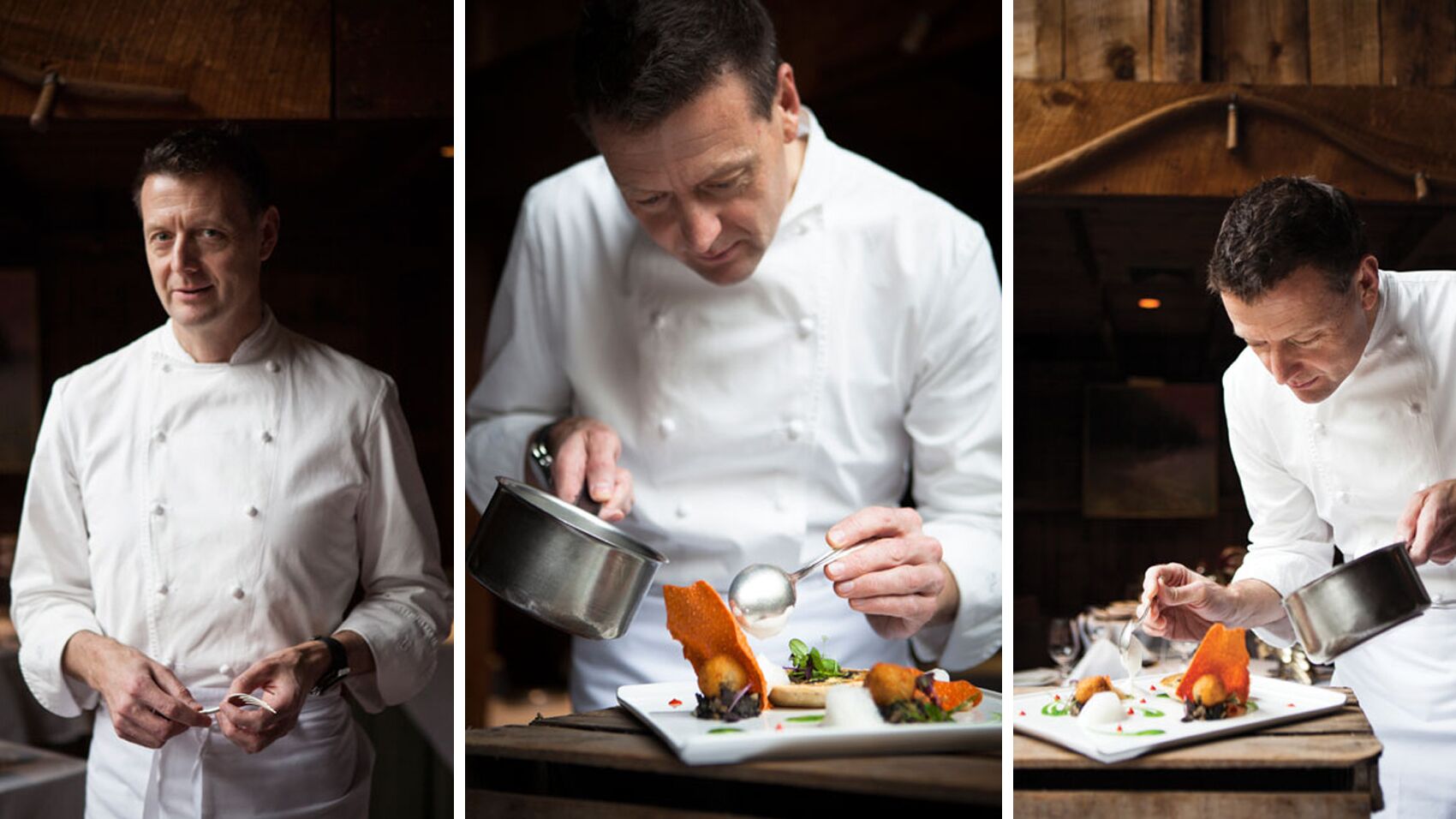 From the hills of Sheffield in Yorkshire, England, to the hot kitchens of Puerto Rico, Jonathan Cartwright has a long history of unabashed learning of different cuisines and cultures. His life has been filled with ping-ponging from country to country, soaking in all of the techniques his star-studded list of mentors was happy to share. Although one may not expect to see such an illustrious culinary history cozied into little Kennebunkport, Maine, that would be perfectly on-brand for Mr. Cartwright. Cartwright is finally settled in at what once was the Wayfarer but has now been transformed into Musette's modern, casual-fine dining glory in Cape Porpoise, Maine. A stunning pit stop right on the edge of the Maine shoreline.
Now, to understand where we ended up, we must go back to the beginning… Where all good coming-of-age tails stem from. For Jonathan, his love of food didn't so much start conventionally. As a fifteen-year-old who'd spent much of his childhood playing hooky, he needed cash for bike parts- his first real love. His hilly homeland gave way to wonderful bike trips to apple orchards, where he'd sit in the shade and stuff himself with one of nature's many gifts: fruit!
As all little kids have dreams, there comes the point where reality sets in, and maybe those big-city dreams might not be as profitable as we'd like. Jonathan wanted to be the first Englishman to win the Tour De France. Not a little dream, to say the least. Let's just say: his dad wasn't thrilled to front the bill for a 'career' in cycling, and 15-year-old Cartwright had to throw himself into a gig that paid- a restaurant apprenticeship that we can promise you all he wasn't thrilled about.
He had a kismet opportunity to fill in on an understaffed night of service from his first apprenticeship. As he remembers, it was hell and the night ended in tears… His tears, to be specific. From that night on, it seems that Mr. Cartwright saw his vision shift, and that service uncovered a fire-in-the-belly passion for completing a service that may not end in crying but perhaps congratulations. The chef he was apprenticing under happened to have some convenient connections to a manager at the five-star Savoy Hotel in London. By the ripe age of 19, he landed himself an interview with the historic hotel, and for Jonathan, the rest is a timeline of big-named chefs eager to take him under their wing and teach him everything they knew about food.
On a trip with the Savoy crew to the US, Jonathan began his love affair with America. As he's said many times, just a trip across the pond, but for him, he saw the potential and a host of opportunities that re-ignited his passion once more. The Savoy Hotel was part of a group of restaurant affiliates- Relais & Chateau. Now this group was nothing to scoff at; in fact, most aspiring chefs wouldn't imagine such an opportunity in their dizziest daydreams, but Jonathan, yet again, was a different story.
As his connection with Relais & Chateaux built, he'd unknowingly been paving the way for his future. When visiting America, he had the honor of working at other restaurants affiliated with Relais & Chateaux- Blantyre in Lenox, Massachusetts being one. Here was his first taste of New England- a place where some of the most incredible food is passed around over picnic benches on styrofoam plates.
Maine itself is seen by many as the definition of humbling beauty. Quiet and lacking in pretension- New England stayed in the back of Jonathan's mind as his Visa ended and he made his way back across the pond… To work a winter season in Switzerland.
A day before his contract was up and the season ended, Cartwright received an interesting phone call from a man previously unbeknownst to him– Laurie Bongiorno. Bongiorno, another star-studded chef with a severe thirst to become part of the Relais & Chateaux, apparently thought Jonathan Cartwright was going to help him get there. A bit of a spoiler, but he wasn't wrong… The only catch? He had to pick up his life and move to tiny Kennebunkport, Maine, where Laurie saw his vision flourishing. This brainchild would soon become what we know as the White Barn Inn.
Jonathan moved to the states on April 19th, 1995, where he started a life-long journey of traveling the hills and dales of the East Coast- be it on a bike or in a kitchen. Two years after snuggling into Kennebunkport, Laurie deemed it time to declare Cartwright the Executive Chef of the White Barn Inn… and it didn't take long because, in 2002, they became directly affiliated with the Relais & Chateaux. Laurie had achieved a lifelong goal, and he had Jonathan right by his side. To know Laurie was to know that he'd been a part of the Hyatt hotels for many years and was why he was able to kick the White Barn Inn into action in the first place. It helps to know a few people, but it also helps to be incredibly gifted.
To the sadness of everyone who spent time with him, Laurie Bongiorno passed away in 2007, leaving the White Barn Inn to Jonathan. Luckily, there weren't any better hands for the job. He fell perfectly into the owner's role- continuing to pay respects to his mentor through the delicious recipes they'd created together and wonderful memories the two had that were referenced continually in conversation for years to come.
As the years passed and Jonathan continued to feed the ever-growing glorious reputation of the White Barn Inn, he was approached yet again with an incredible offer he couldn't refuse… to open his own set of restaurants within the stunning confines of Grace Hotels. Although the list is long, the two most influential to Cartwright were: 'Muse by JC,' which opened in Newport, RI, in 2011, and the second 'Muse by JC,' which opened in 2013 in Argentina. Sound a bit familiar?
Although his illustrious career continued in the boisterous network of Grace Hotels, cooking here, there, and everywhere- Jonathan wanted to get back to his roots. You didn't think we forgot about the cycling, did you? Well, neither did he.
Alongside the beautiful meals served and hands shaken, Jonathan's bike sat in his garage, always recently used. Maybe not the first Englishman to win the Tour De France, but the first to make his own little routes du bonheur pit stop in the United States. And such is history, in rolls Musette- or shall we say, in wheels.